Hybrid Hard Drive Problems
The motherboard on my laptop failed last week and in the process the hard drive seems to have got some damage too. The is no power through the laptop at all, so I took the disc out,hoping that I will be able to mount it from another machine, but no such luck. The partition table seems to have become corrupted.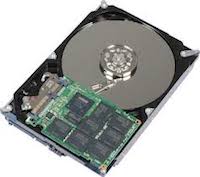 It is a 1TB hybrid disc, formatted ext4 for Linux (OpenSuse 13.1) with the standard 3 partitions, swap, / and /home. It is from a laptop which originally came pre-installed with Win8 so I think the MSR partition is still on there too. There are no other Windows partitions any more (i.e. I used only Linux, no dual-boot). The laptop uses UEFI, but the Linux installation was done in Legacy mode.
The disc spins up when connected to a computer, and from smart checks it seems healthy. I hope that some (or all!) of the data can be recovered. Could you assess the disc and quote me for a data recovery please? I have not tried anything apart from the smartctl checks, and checking whether it would perhaps auto-mount under various settings (UEFI, Legacy boot mode etc).
I will be out of the country for work Mon-Fri (10-14 Aug) so during this time email is the best way to contact me. Alternatively, if you send me an email or text message, I can call you back from where I will be.
I would like to make use of your collection service – I can leave the disc with my building reception for pick-up. Please let me know what other information you need and what I should include in the package.
Reading your enquiry seems to suggest that once removed from your laptop, the hard drive was working ok but there seemed to be a problem with the data – probably due to some type of data corruption. This is entirely possible – if your laptop failed whilst a disk access operation was taking place there is every possibility that part of the data on the drive has become corrupt which is preventing the laptop from booting. From what you describe of the problem, it doesn't seem to be anything physically wrong with your hard drive, hybrid drives have both HDD and SSD characteristics but for the purpose of this enquiry when can ignore this as it's a data problem rather than a disk problem.
Our collection service operates country-wide. All we need is the computer's hard drive, but if you are reluctant to remove it, just send the entire laptop, wrap it in something protective like bubble wrap and place it in sturdy box. We'll do the rest – we can collect from any type of UK location – house, business, hospital, school etc. Alternatively, if you're near to one of our regional offices (http://www.dataclinic.co.uk/dataclinic-locations/) you are welcome to drop in with your hard drive / laptop and we'll run a free assessment on the system and diagnose the problem for you. The phone number you provided seems to suggest you're near to Manchester – here are the details of Data Clinic's Manchester location – http://www.dataclinic.co.uk/data-recovery-manchester/.
Thecus NAS Not Working
Thecus NAS drive is no longer accessible. Probably needs config reset. I also suspect that one of the drives is faulty.
Can you please provide more information on the model of Thecus NAS you have?
Is it a tower, rack mount or SOHO/home system?
What model is it? Common models we see include the N4100, N4200 and N4520 models
Are you running RAID? Popular Thecus RAID levels are RAID 5, RAID 0, RAID 1, RAID 10 and RAID 6
Why do you suspect one of the hard drives is at fault? What symptoms does the system have?
When the fault occur?
Has anything been done to the system since the failure?
If you can provide this information it will allow us to make a more accurate diagnosis of the fault and we'll also have a clearer understanding and idea of what should and shouldn't be possible in terms of the recovery of your files. Further information on our Thecus NAS services are on this page – http://www.dataclinic.co.uk/thecus-nas-recovery-data/, your 020 phone numbers tells us you are in the London area, so our details of our London offices are here http://www.dataclinic.co.uk/london-data-recovery/.
Over To You
Do you have a problem with a hard drive or other type of device such as a server or smart phone? Contact us and we should be able to help !