Advanced Data Recovery – Research and Development
We can go further…
Conventional data recovery relies on hard drives that spin. If other data recovery companies can't get your broken hard drive to spin they won't be able to recover your data. And that, for all data recovery companies in the UK except us is where the story ends.
DataClinic have an Advanced Data Recovery service. This service can be used when conventional data recovery techniques have failed. This service isn't just for drives that won't spin though, we use it to recover data from many difficult situations.
Perhaps you have been told by another company that the data on the broken hard drive you sent to them is unrecoverable?
Don't give up – our Advanced Data Recovery service has been used successfully hundreds of times to recover data that was previously thought to be unrecoverable.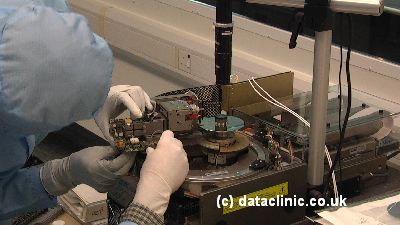 Research Programmes
Current Advanced Data Recovery research is on-going in a number of areas, all of which will give you confidence that we are the experts to talk to if you have a problem. DataClinic have already completed the development of a tool to recover data from drives with seized spindle/motor bearings, other ongoing projects include-
Development of a tool to reconstruct data from damaged RAID arrays
Seagate and Western Digital ADR headcombs
Investigation into the long term effects of interaction between hard disk Giant Magneto Resistive & Magneto Resistive heads and platters
Investigation and analysis of vertical vibration caused by the use of Fluid Dynamic Bearing technology
Investigation of ROM corruption.
Investigation into drive calibration parameter windows & their correction using Digital Signal Processing or external microprocessor introduction.
Development of a hardware based data recovery tool
Our Commitment to Advanced Data Recovery
Our commitment to Advanced Data Recovery is widely accepted, and we have invested considerable time, money and effort into solving disk problems relating to a number of the major drive manufacturers such as Hitachi, Toshiba and Western Digital.
Our Advanced Data Recovery programme is unique in the UK. We even get work from other companies in the industry who realise that they haven't the ability to solve some problems. Other companies of course may tell you that your data is irretrievable. In those circumstances you should always get a second opinion – please speak to us and we'll be delighted to help.
Links:
For more Advanced Data Recovery successes take a look at our News Blog and Know Issues and Case Studies sections